Sound is nothing more that air in motion. It happens in waves. Air is all around you, it has a high pressure (one kilo on every square cm = somewhere around 12 pounds on every square inch). Air is immensely flexible as the volume decreases by a factor two when its compression is multiplied by two (OK - that's only for ideal gases but the displacements are so small that you can leave out that air isn't an ideal gas).
When air moves, also the air pressure varies. With any sound, you could make a graph that represents the displacement of "air particles" related to its idle state. These are motions that will push the membrane in your ear accordingly, and it will move the membrane in your mic accordingly. This sound is, by electrical and mechanical processing, written in the groove of a vinyl disc. It is not about friction. It is displacement from the center. Take a vinyl record and look real close, you can see that it's not a straight line (obviously the record being a circle the track is bent into a spiral) but you can see the separate waves. They are best visible on a 12" maxi single. The tracks are wider apart, the displacement is bigger and the tracks are deeper (to get a better s/n ration) than a 33 rpm 25 minute per side disc.
You could connect a record player to the sound card input of your computer (there has to be a preamp in between) and record a part of a song. Importing the recording into Sound Forge or any other sound processing software, it'll put exactly the same graph on the screen as the tracks shape on disc. It is the same signal.
Here's a vinyl groove seen through a microscope. Recording that sound and showing it in Cubase or whatever you happen to use will reveal the exact same shape of curve.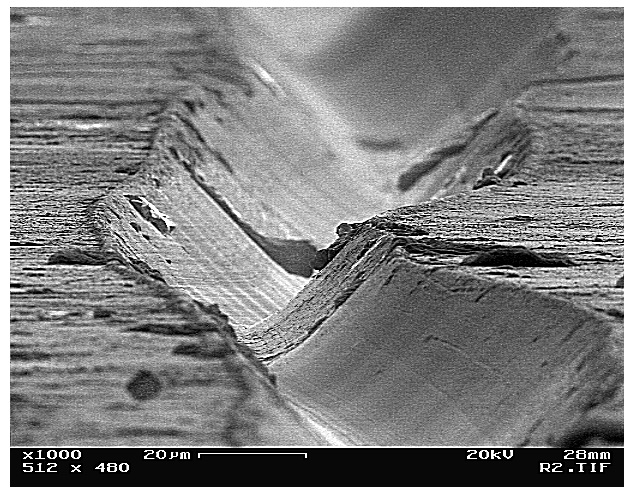 You can see you have a left slope and a right slope. The left slope varies from bottom left to top right, and the right slope makes the needle move from top left to bottom right. So, these motions are 90 degrees apart and theoretically totally independable. That means you have two separated signals: Left and Right. Creating a stereo image.