The pics are mighty big, and in that case it helps to use the resizeimg tag that I made. The syntax is
The percentage is the percentage of width that is available on screen, so it adjusts to the size of the browser screen that you're watching it in.
Below I quoted your post with the only difference being the resizeimg tag being used.
Hi all,
I thought it would be cool to see each others recording spaces. Robbie said to go for it, so I'll go first... It doesn't seem to fit in any of our categories to well though, maybe we need a new one Rob? All my stuff sits in a basic little bedroom. Over the years I've come to arrange it where it works for me and sounds pretty decent. If you decide to join my little studio adventure, talk a little about your stuff, what you like...what sucks...back stories...whatever might be of interest.
Picture 1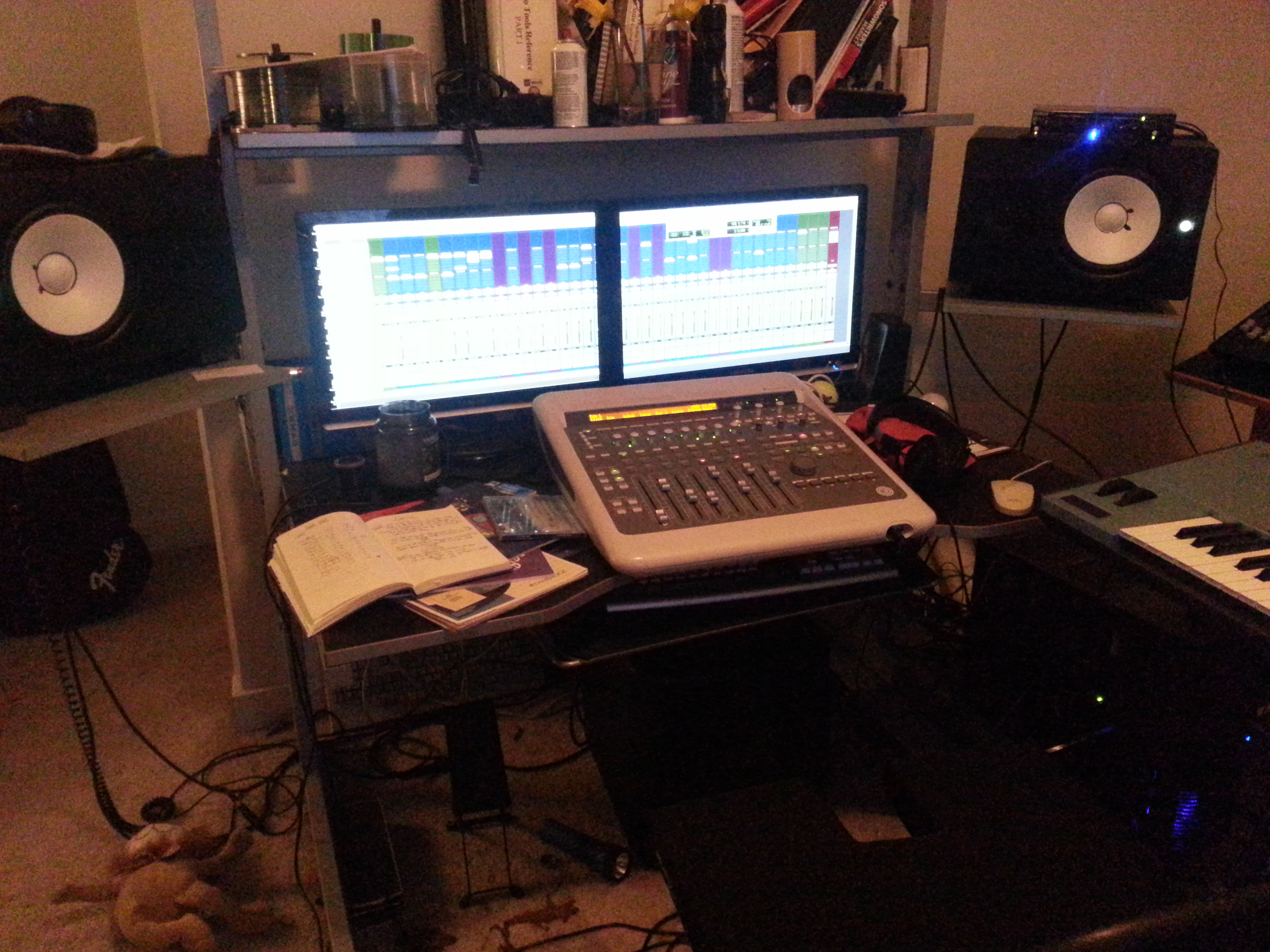 Notable Items in this picture, bottom right by the blue glow, is my PC, custom built just for this. Solid State HD and lots of others.
The table is from IKEA. Look at the cool little shelves that rotate, SWEET score!
Up on the shelf are all my manuals, and if you look hard you'll see one of those ART tube preamps laying up there.
Dual Monitors. That's Love Lock on there from Planet Cool...many many tracks...
On top of the right monitor is a JoeMeek 3q preamp/comp/eq. It's working killer on bass. Hit or miss on vocals... works for me, not for Kim.
Yamaha HS80 Monitors
KRK 10in sub under the desk.
Digi003 and Protools.
Pic 2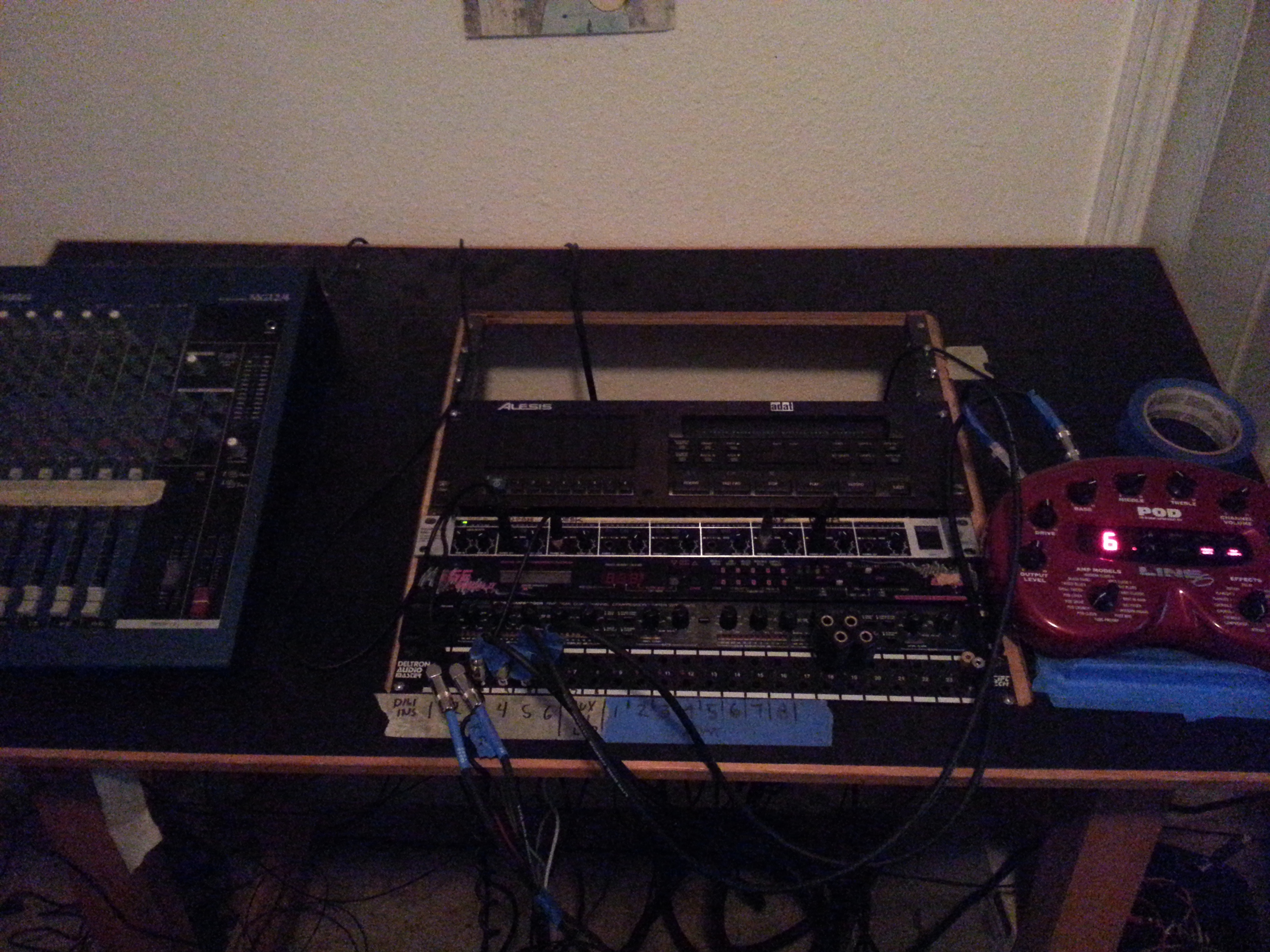 This desk was made for me by a friend. Works great!
Here you see my Yamaha mixer. It's pretty much a paper weight. I used to run through it, but took it out of the loop.
A patch bay, the first 8 connect to the back of the Digi003, and the second 8 connect to the ADAT you see on the top. From the ADAT those tracks get light piped to the Digi003 for 16 simultaneous recording channels. $50!
There's a headphone amp, a compressor, a bad reverb (used as comfort verb to singers).
And of course the Line 6 Pod, which I use for rough tracks usually, then re record with amps and mics.
The pod stays plugged into the patch bay, so I just plug in a guitar and go!
Pic 3
My lovely band that I love so much...Yamaha XS7 It also stays plugged into the patch bay. It midi's to Digi003 also.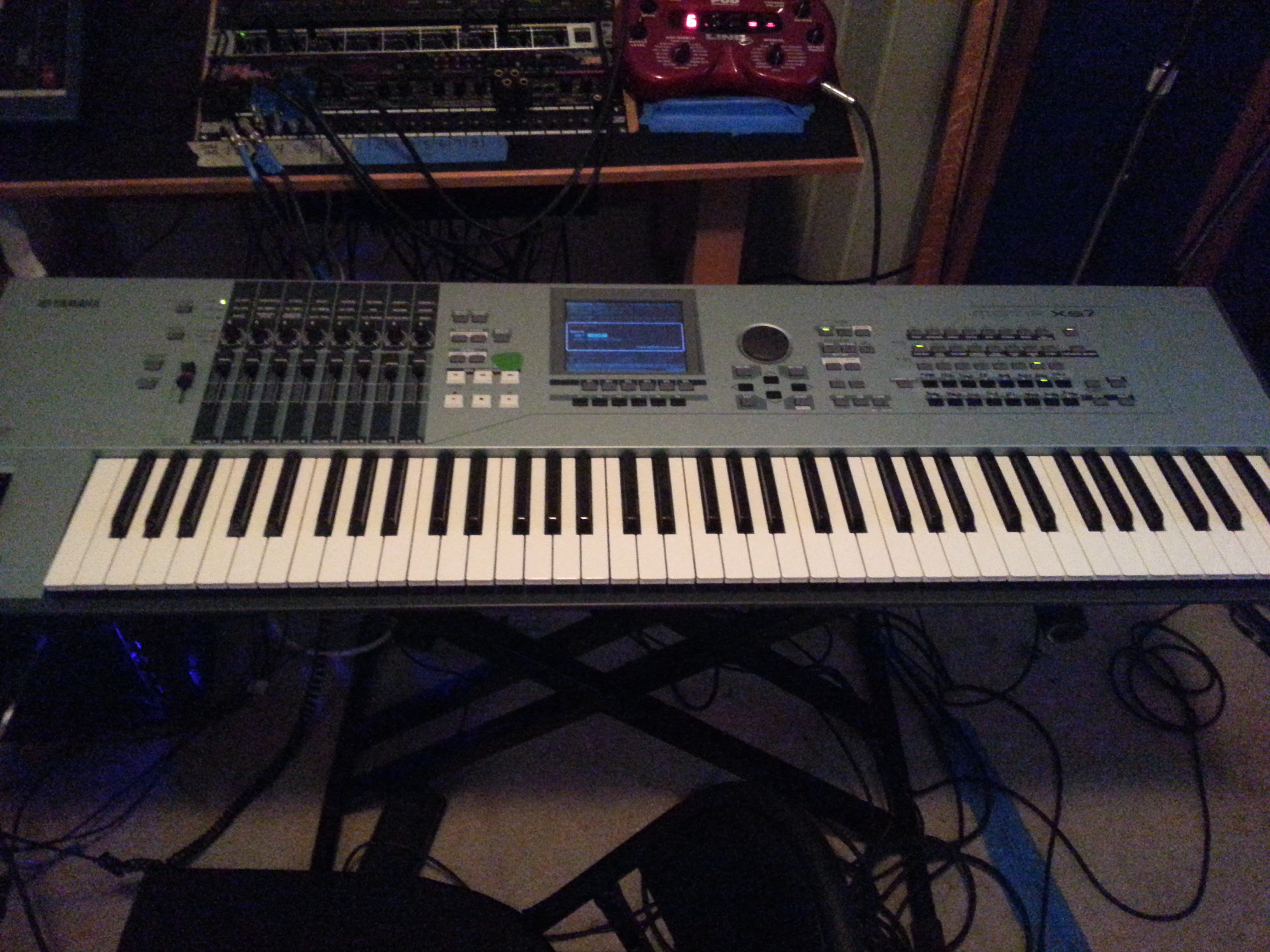 Pic 4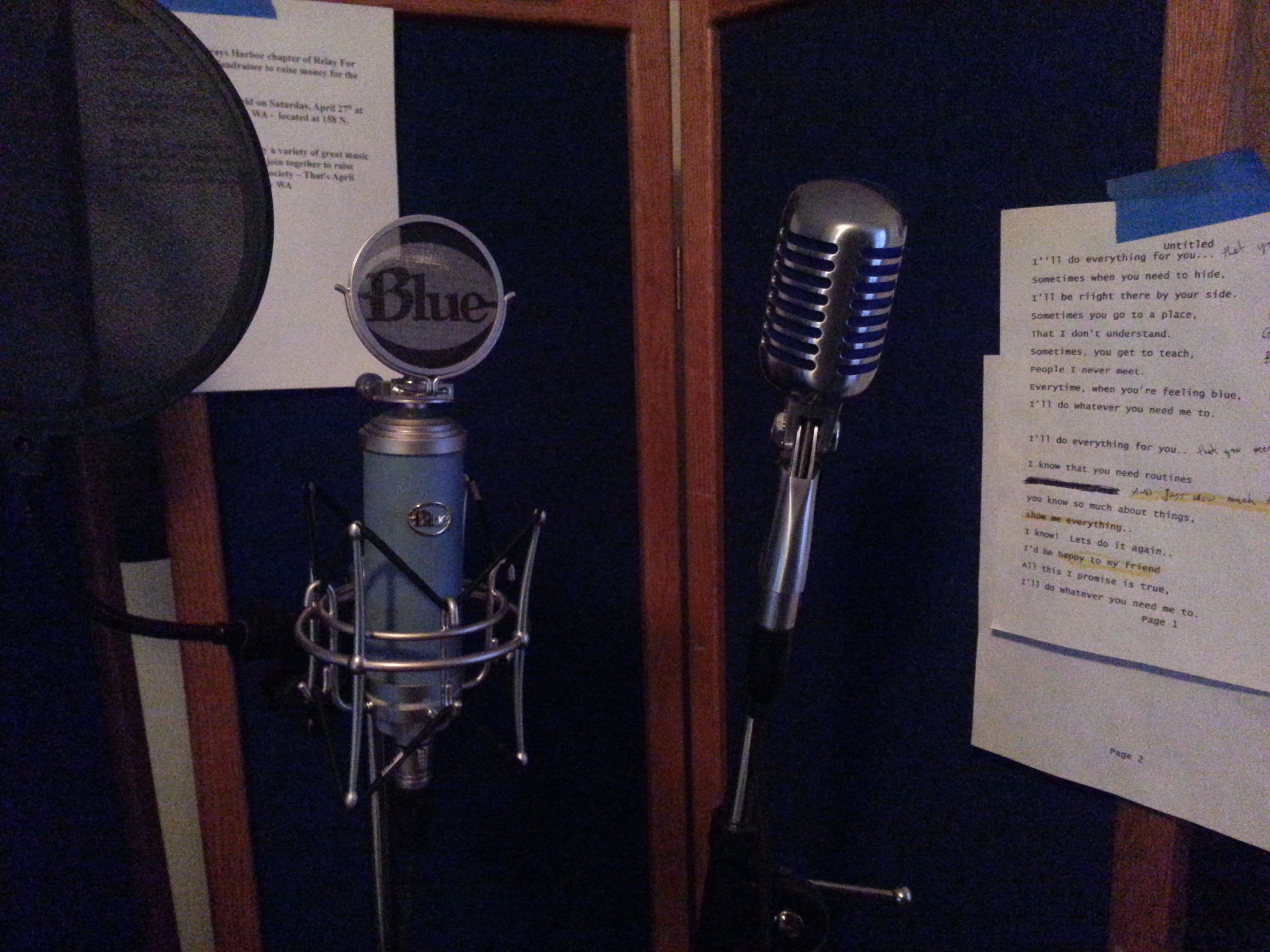 The vocal booth... LOL This divider came from a school getting rid of stuff. $0 Sweet! It works great to stop the room bounces from hitting the back of the mic. I also have one of those sound baffle things that attaches to the mic stand and kind of surrounds your face. I get pretty quiet results. The occassional car sucks...
That's my Blue Bluebird mic, and Kims Shure Super 55. Those Shures are very warm. Kim was given two of them by Shure as part of her sponsorship...grrrrr!!! I cannot say enough about the Bluebird... it's great. I use it for everything. No coloring so don't expect your voice to sound like an announcer through it..LOL, just you.
Pic 5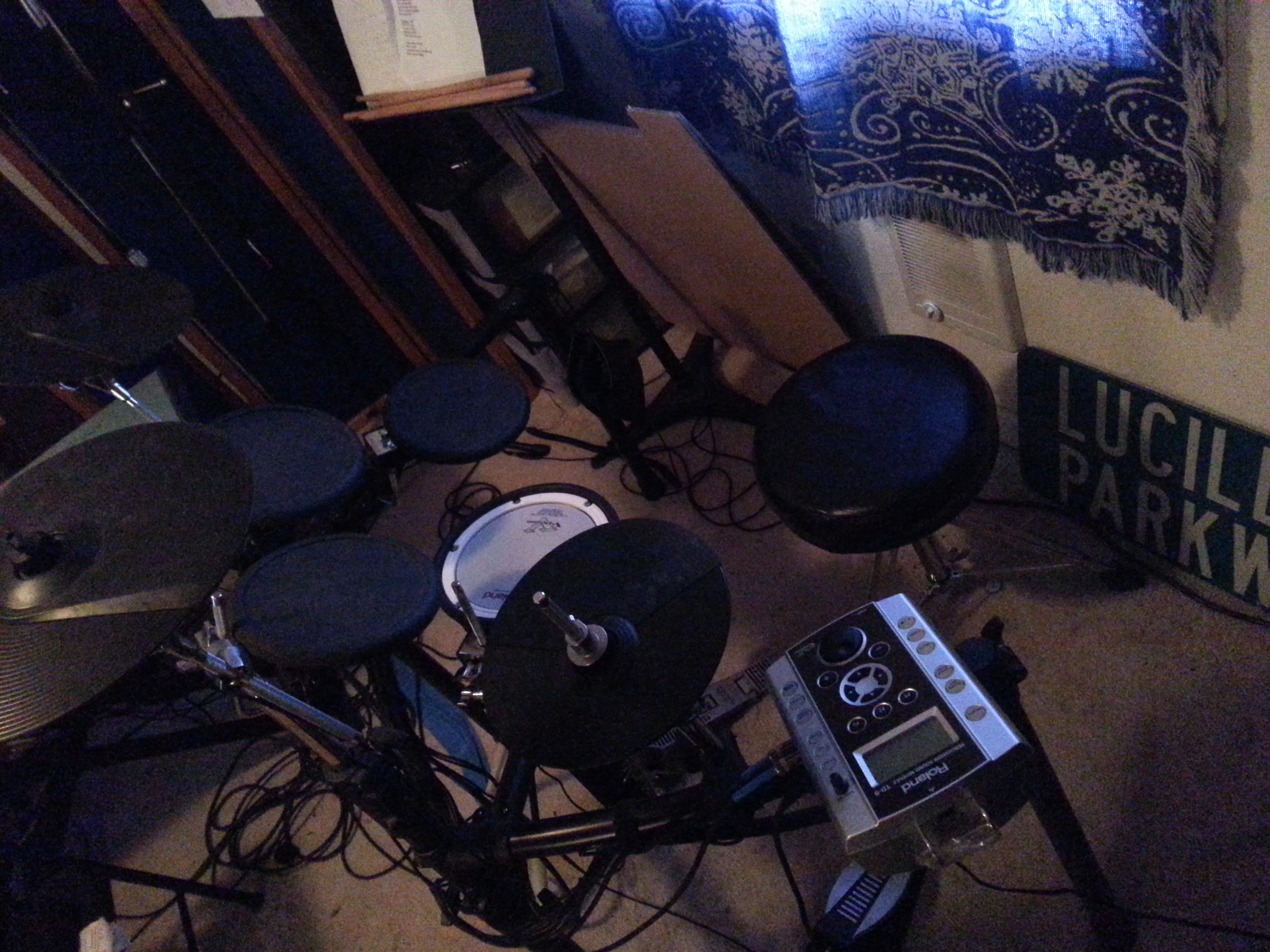 The Roland TD9s. Super cool to have when friends come over. I'm not very good at them at all. I usually program the drums on my keys. With a real drummer on them they rock! Record super clean, with no fuss. Theyre connected to the patch bay, and also via midi to the Digi003
Pic 6
The amp pile...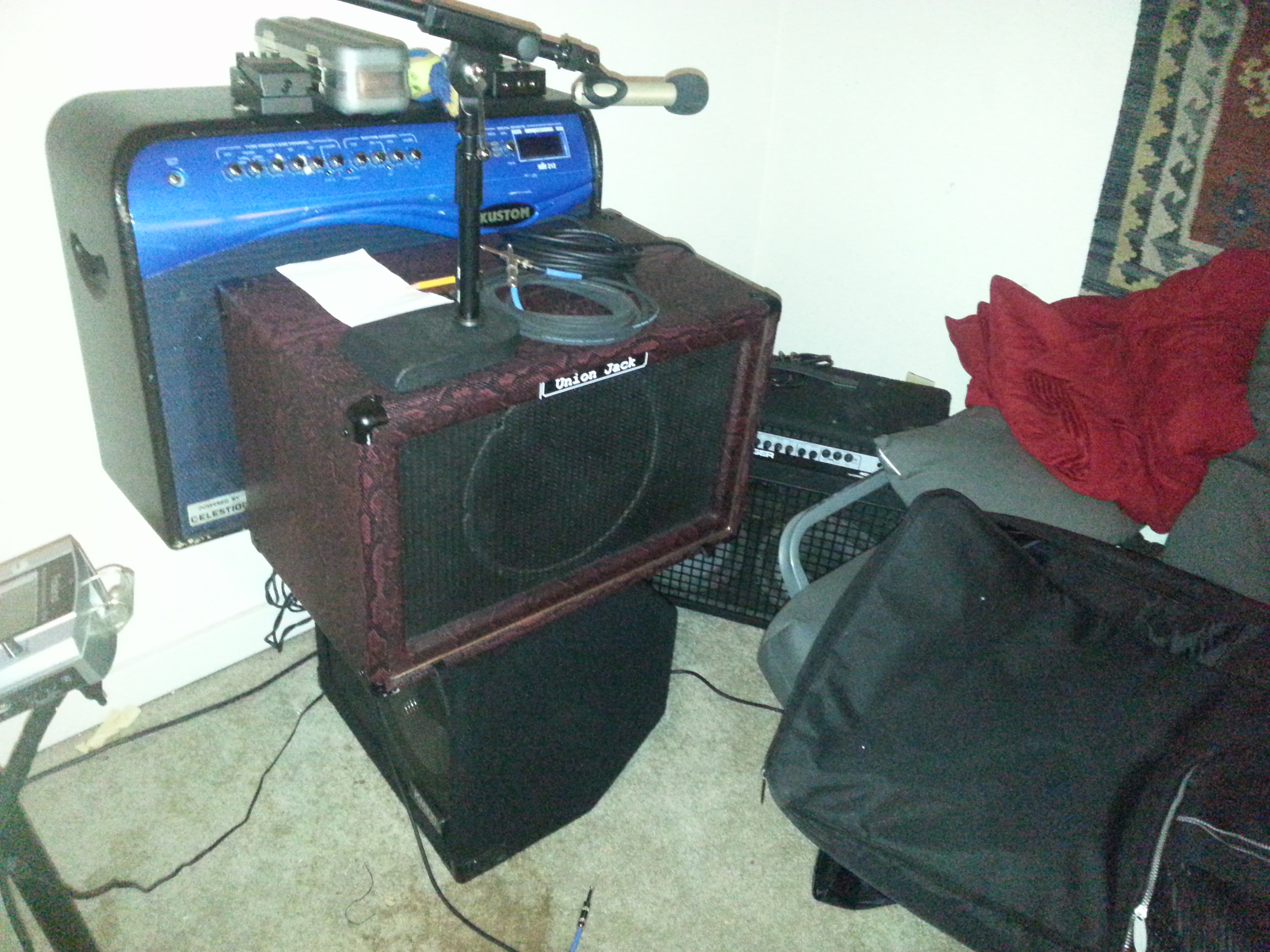 I have no room for the amps, so they stay on top of each other balancing precariously most of the time. The blue amp is a Kustom Wav212. Used to be a 4 figure amp, they're dirt cheap now used. Worth checking out if you're looking. Solid state rhythm channel is super clean, lead channel is tube. Has effects and crap built into it... The snakeskin amp is my Union Jack Maddog. This amp was built to my specs and is the only one in the world. I freaking love it!! It pretty much just does clean. Class A, Point to Point yumminess. Under those two is a Hartke keyboard amp. I mainly use this for the TD9s so the drummer can feel his kick. In the corner is a GK bass amp. This sometimes is my live keyboard monitor, sometimes its just a bass amp for someone in the studio. Bass player goes in a direct box which goes to this amp and the patch bay for protools. The tiny little mic is a JoeMeek condensor mic. It's a strange little mic, works great for acoustic guitars, but it's new and I'm still learning it.
Pic 7
My bitches....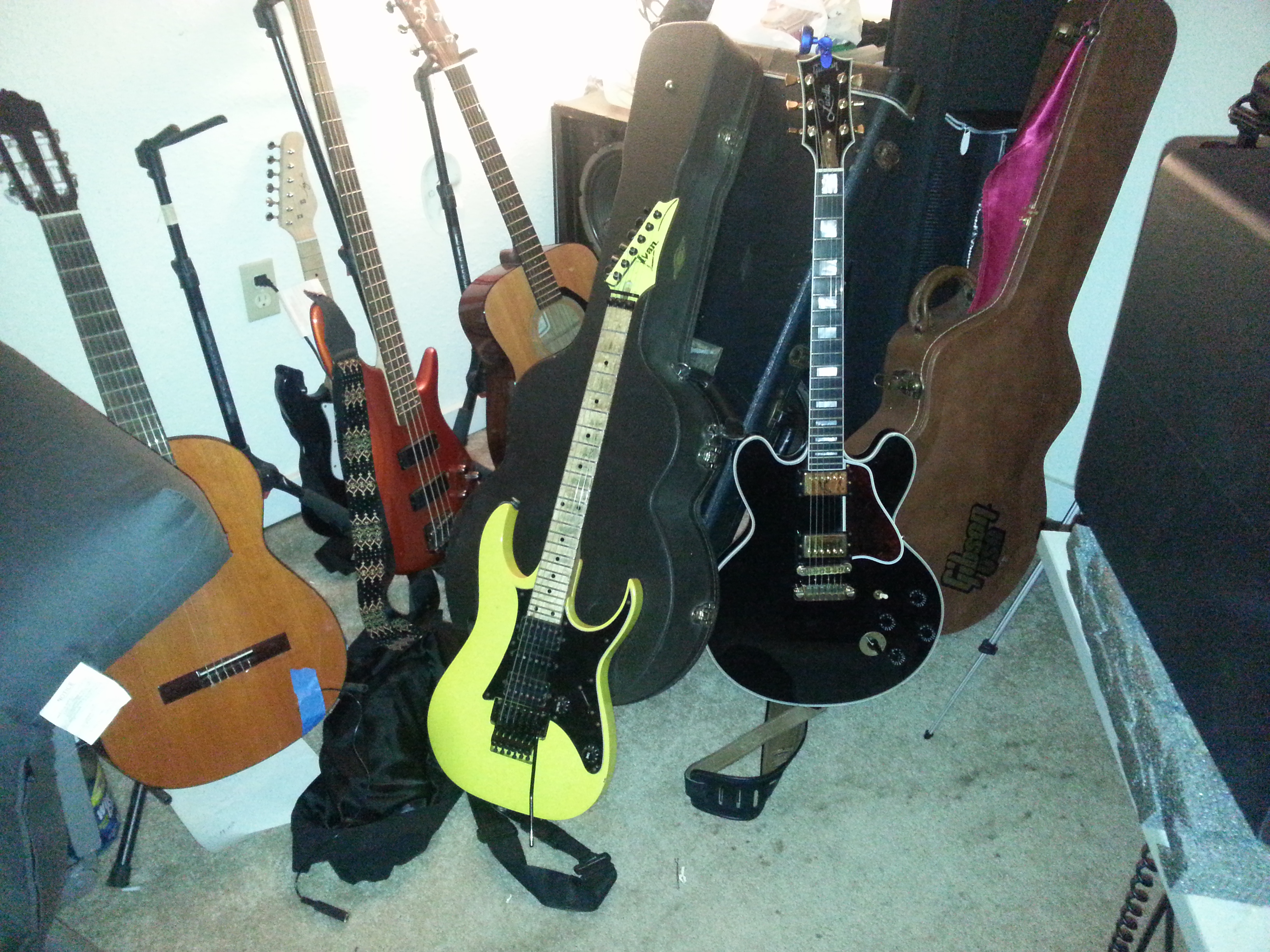 An Esteve classical..middle of the road, nothing expensive, but it records great. A cheap Ibanez bass.... My first real guitar is the yellow RG550, Looove it!!! There's a crappy acoustic in the corner. It totally blows. Somewhere in the pile of cases is a White Mexican Strat which is really pretty and gets it done just fine. And of course, by very beloved Gibson ES550. That guitar cured me of ever wanting to buy another guitar. It does everything. If you had just one guitar, that would be the one! It's my second 550. During my divorce I had to sell my first one to be able to afford a Christmas. I had wanted one for so long, that I literally had tears in my eyes driving home from the exchange. I promised myself I would get another one one day. A few years later I got hired at my current airline and it was the first thing I did. It doesn't sound quite as good as the first one for some reason, but certainly good enough! In the brown case, is Kims delicious gazillion dollar Taylor. She got that free too....grrrrrrr!!!!! It looks like I spent a ton on these things, but they've just accumulated over 30 years so it was rather painless. The 550 was big bucks, but the rest of them aren't. You really don't need super expensive stuff, they all work, except for my acoustic. It's a POS.
Pic 8
The most important part..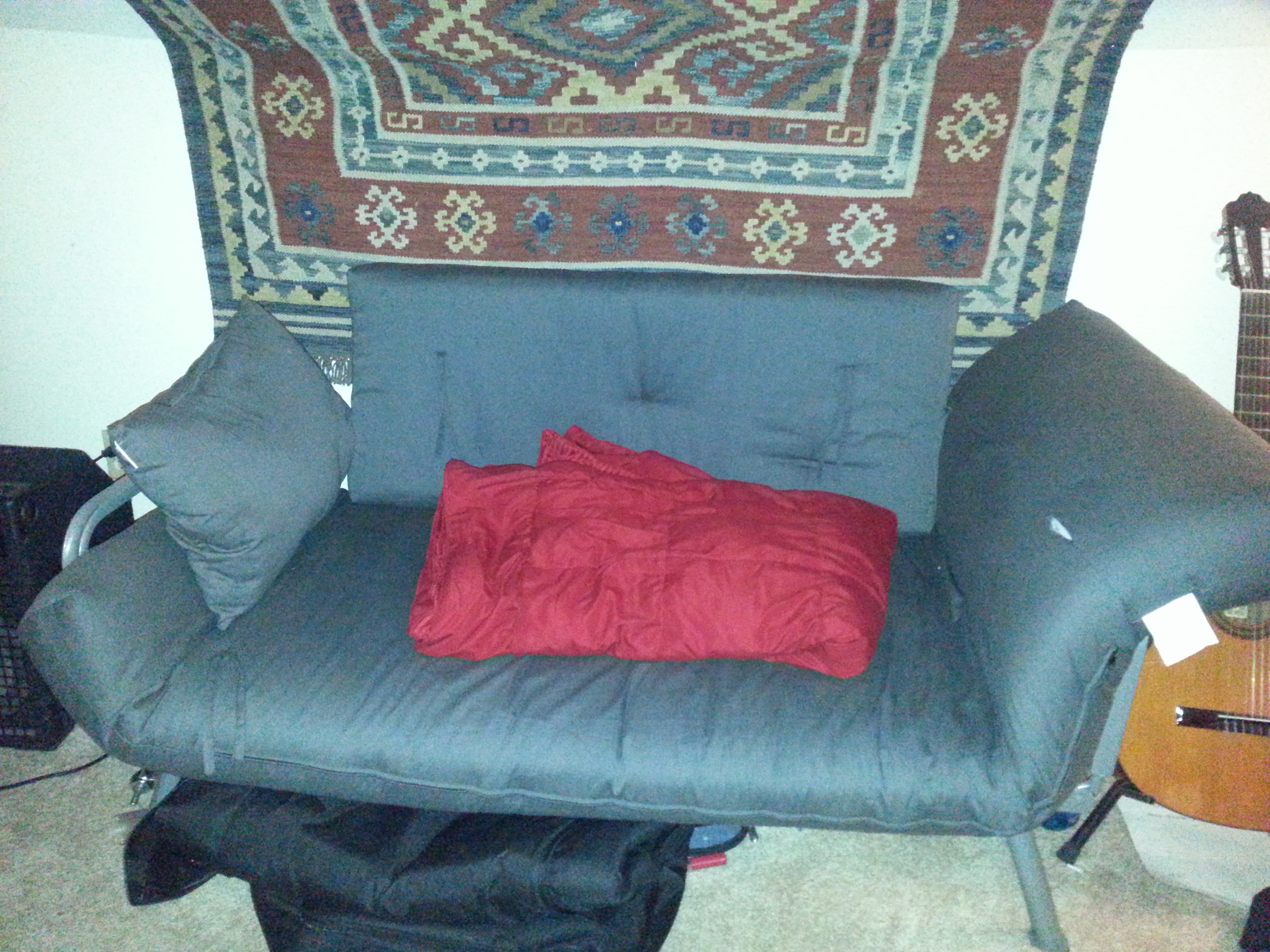 The girlfriend/wife couch. A place for the ladies to sip their wine while the boys take care of business!!! This was my first piece of furniture when I got divorced 8 years ago. I slept on that POS for months!!! The floor before that! Rough times...
You can't see it but underneath it is where my AW1600 has lived for yearsss!!! I swear I've used it like 3 times and then it's been under this couch. I bet I have the newest one on the planet!
Pic 9
The mics....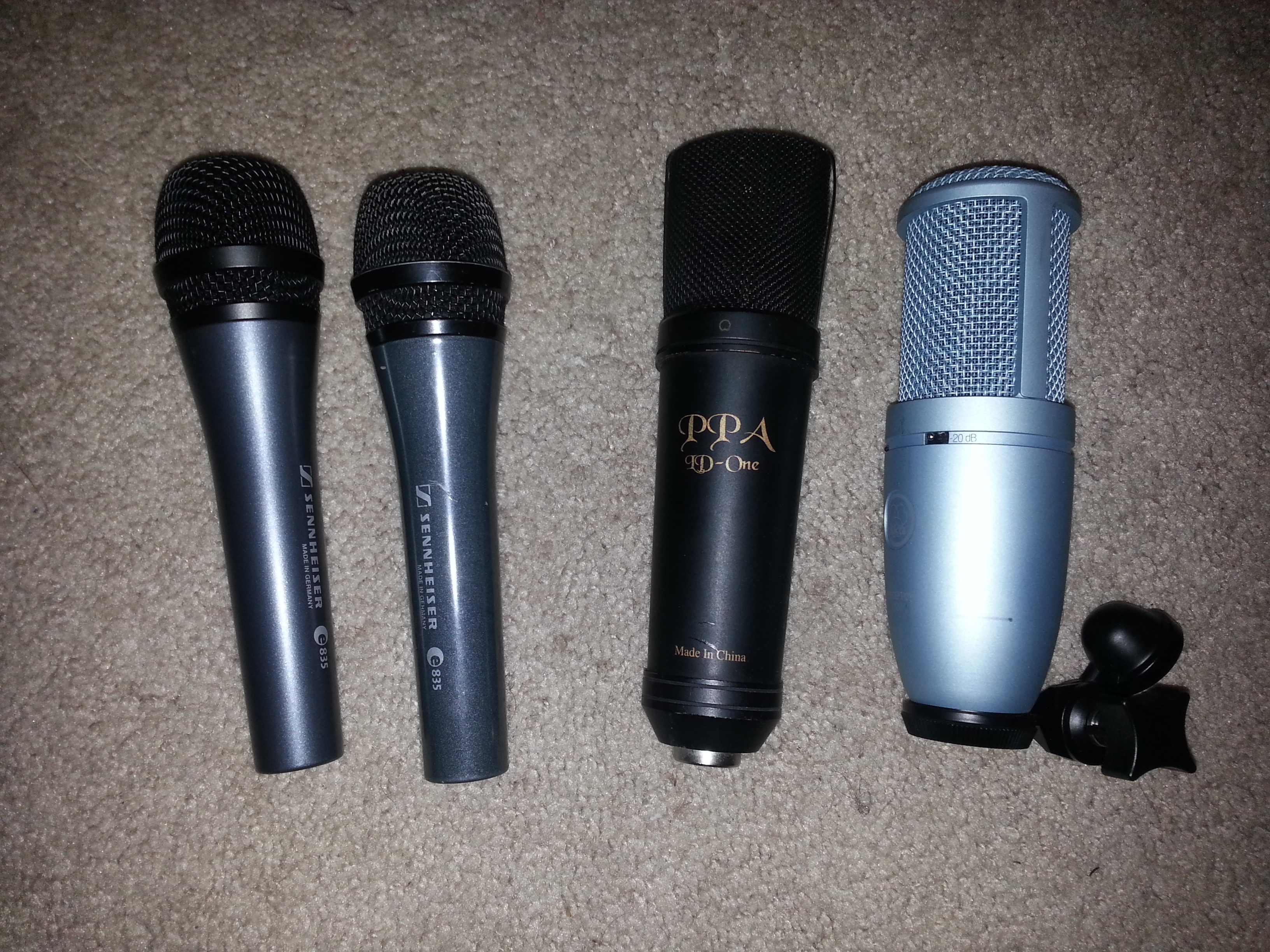 These are some things that have piled up over the years. There's nothing really special here, but those Sennheiser dynamics are pretty damn nice for $100. They easily hang with Shure Beta58s and have their own character. I might like them better...not totally sure though. They sound better than regular Shure 57's and 58's in my opinion. The black condensor is my first real mic. It's chinese and cost me $75. It was my only mic for many years and served me well. That blue thing is an AKG Perception. It was on sale and I wanted something to park in front of the guitar amps and just leave there instead of moving the Blue around. The little JoeMeek works better, so now it just sits around. It's just OK, nothing special. It has it's own sound, but not great, not bad. Just a mic.
That's it, hope you enjoyed the tour of GoodMojo Studios! Let's see yours!
Boy that was way more work than I anticipated! hahaha, you guys are totally worth it though
-= Beer