Greetings. On this Good Friday, where work has come to a stand still and I have time to play, I thought I'd share a project I assumed would be simple to do. But at Newton said, "For every action . . . .
On to the story. My neighbor a few houses down is in his 80's and is young spirited as can be. He has always had a love for woodworking and is a premier artist when it comes to making cabinetry or pretty much anything having to do with wood. When he built his home some 20 years ago, he took 50% of the upstairs and turned it onto a wood working shop. All the equipment is in one room, all the finishing work is in another. He has stairs installed in the garage so he can bypass the house and carry up his various woods.
He has always offered to me the use of his work shop. I have done several fun projects there. I love being his apprentice. I learn something new every time. This time, I asked him to help me build a small stand for my AW2400. I wanted something that would raise up the back and also extend the length so the bottom feet of the AW would rest easier on my desk. He pulled a sheet of wood and cut it. He won't let me cut yet. That's why I still have all my fingers. Once the parts were cut, first he let me rout the edges for a round smooth appearance. Then I drilled and screwed the leg in place.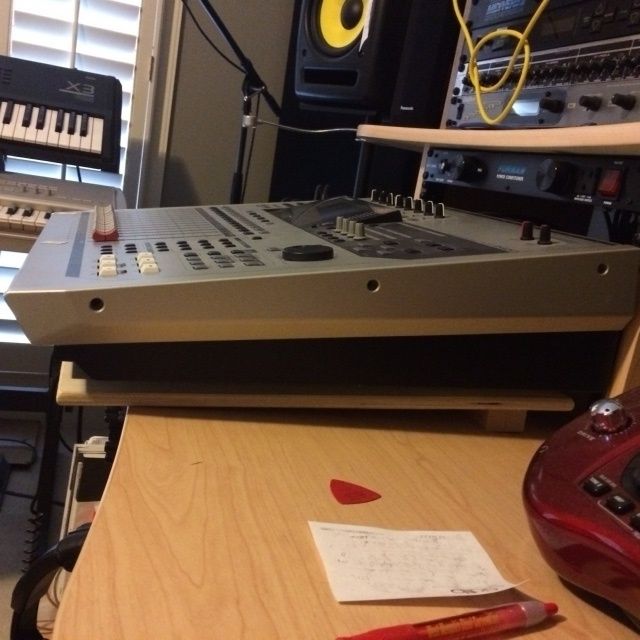 As you can see, the extra length really helped secure the AW for a better fit on my narrow desk. My 16G fit there perfect. This is a much deeper recorder and now it fits fine. But, when I put the AW on the stand something happened! I had my headphone amp just below my power conditioner where the AW normally fit. Not any more. With the added height of the AW2400, the cables didn't fit. So, I had to remove the amp. The fit for the AW is perfect, but now . . . no place for my headphone amp.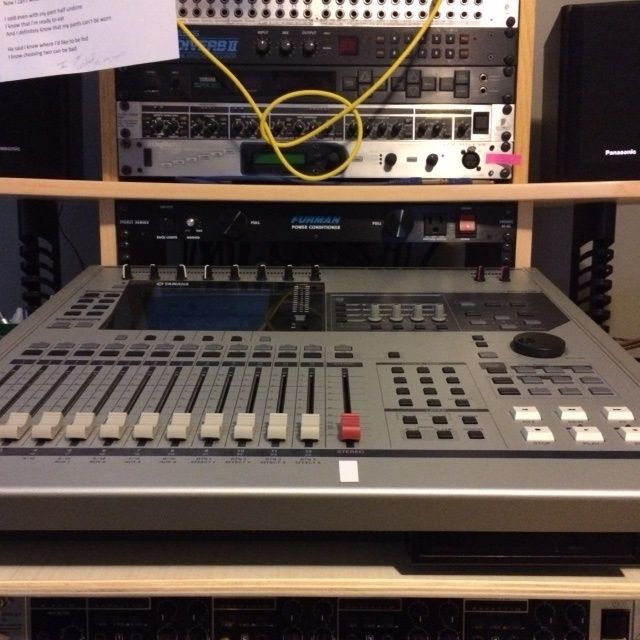 I thought about it for days. Then I decided I'd try and find an L bracket that might accommodate the rack mount on each side of the amp. Come to find out, the holes are drilled way wrong and that wasn't gonna work. I decided to use wood. Not wanting to bother my neighbor, I decided to tackle the project myself. I had just bought a new jig saw and have plenty of wood scraps lying around. I measured, drilled and took two blocks of wood and screwed them under the desk. Only problem, one side I drilled the holes just a bit too big. So, I have a screw lose (never stopped me before). It still fits and holds great.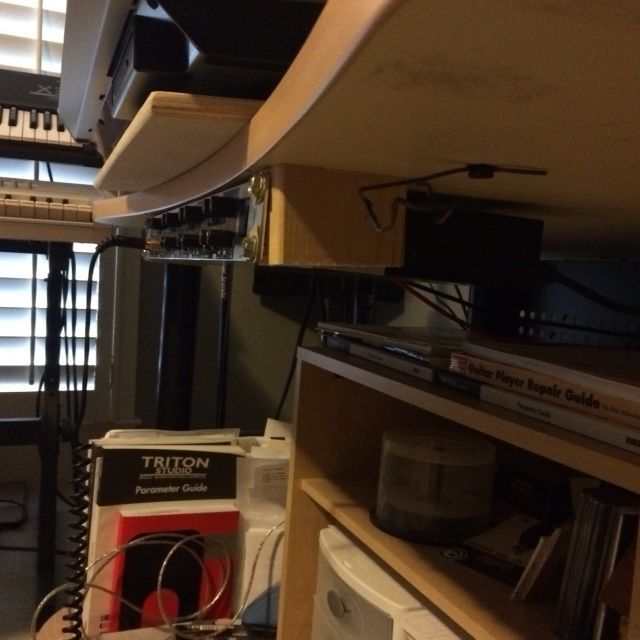 That wire you see underneath was another crazy idea I had. It's a coat hanger bent to hold my headphones. I used the screws that came for the under mount keyboard. With the headphone amp underneath the AW2400, I have a little extra room to roam. I can also have 3 other folks over and they can set their own levels. The wiring was easy. I took a stereo 1/4" Y adapter, two 3' instrument cables, went out of the AW' headphone jack & into the left right inputs of the amp.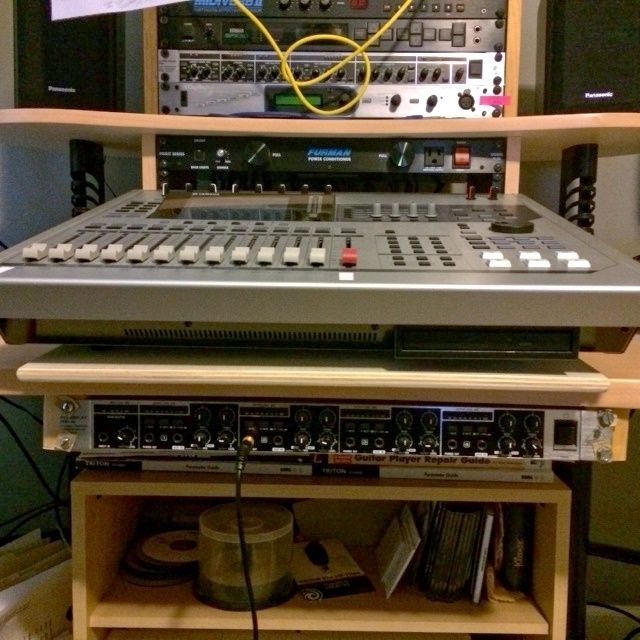 It almost looks like it's sitting on that shelve below. But it's no where near it. Also I decided to use some cardboard I cut and put on each screw to try and not scratch the mounts. I'm very pleased with the end result and now I can control the volume level without having to stretch over the AW.
_________________
GSMUSIC: Hey RZ, Im not no upper class american, the gear I own is what I have special to me. My car sucks, my house sucks, my nieghborhood sucks. Does yours RZ? Does it?
rz-land